Seniors on the Frontlines – Mission Trip in Cambodia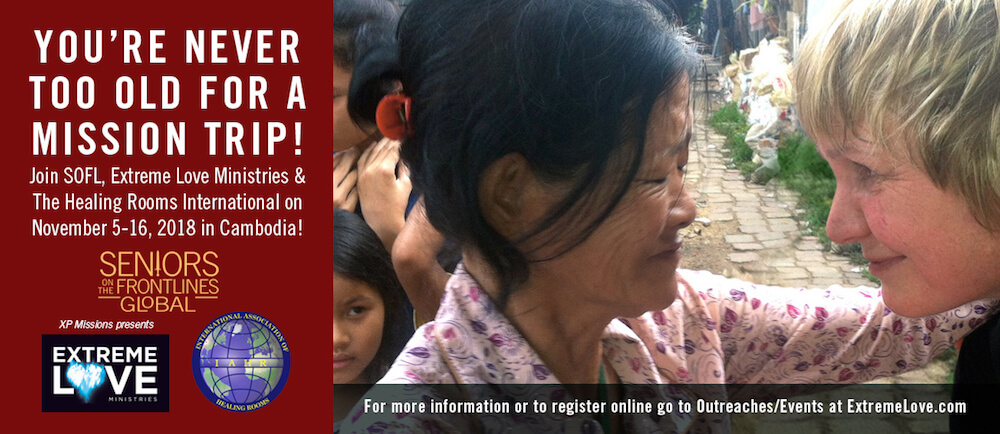 Join Healing Rooms International in a two-week mission trip to Cambodia, working with the Extreme Love Team to bring healing to at-risk communities.
Registration Fee

Cost: $800 per person. $400 deposit and $400 final payment.
Cost will include:
• Teaching and outreach training (specifically related to Healing Rooms International curriculum training)
• On-ground transport for all event activities
• Translators
• Outreach expenses and teaching materials
Cost will exclude:
• Accommodations – see below for options
• Meals ($20-30 USD per day – breakfast is complimentary with accommodation)
• Airfare to/from Phnom Penh
• Travel Insurance (required)
• Cambodian Visa ($35 USD)
Accommodation Options (NOT included in your Registration Fee)
Option A: Hotel – $19 per night (Shared); $38 per night (Single)
Option B: XP Missionary House (if room available) – $14 per night (Shared); $28 per night (Single)
Register Now
Submit Final Payment
Register by phone: 1-866-980-5464
Flights and Overseas Arrangements
You will make your own flight arrangements between your home airport and Phnom Penh, Cambodia.
NOTE: Please do not book any flights or travel arrangements, until you have registered and received important arrival and planning information.

Here are a few websites for you to consider, or you can see your travel agent.
Asiana Air – http://us.flyasiana.com
China Southern Air – http://www.flychinasouthern.com
EVA Air – evaair.com/en-us
PASSPORT: Please ensure that you have a valid passport with expiration date no less than 6 months after your arrival date in Cambodia.
VISAS: A tourist visa is required for Cambodia. Cost is $35 USD and is valid for 30 days. This can be purchased easily upon arrival, in the Phnom Penh airport. However, if you desire to purchase ahead of time, you can do so online at: https://www.evisa.gov.kh/ (please follow e-Visa instructions carefully).
Deposit and Final Payment
$400 deposit is required upon acceptance, with the final balance paid 30 days before the program's start date. You may also make the entire payment in one payment.
Note: All registrations are non-refundable.

Register Now
For questions please contact [email protected]
---
Patricia King Ministries or CSA, its agents, volunteers and employees are not responsible for any injuries that could occur while at any of the events/outreaches sponsored by Patricia King Ministries. Guests assume all risks associated with physical injuries that could occur during an event/outreach.